Meeting Schedule
---
REGISTRATION OPEN:
April 13-15, 2018 MECSNM 48th Annual Spring Meeting
The HOTEL at Arundel Preserve
7795 Arundel Mills Blvd
Hanover, MD 21076
19 credits of AMA/PRA Category 1 or ARRT Category A Voice credits
Rooms can be reserved by calling 1-888-624-4011 or 410-796-9830, or going to
http://hotelarundel.webhotel.microsdc.us/home.jsp?groupCode=3426
When calling please identify as being part of the MECSNM. Room rate is $145 per night.
Rooms needs to be reserved by March 11,2018.
Registration fees before March 30th:
​
Member SNM:
Full associate $340 Sat&Sun only $280
Tech/Fellow$225 Sat&Sun only $180
Non Member SNM:
Full associate $415 Sat&Sun only $355
Tech/Fellow$285 Sat&Sun only $220
Students-$20

Late registration, after March 30th, add $50
__________________________________________
Attendees Register online click here
Program click HERE

Register by mail form
Corporate Sponsors: To exhibit at event or provide educational grant or sponsorship, contact our Executive Director, Shari Moreau, at
mec.snmmi@outlook.com
.
---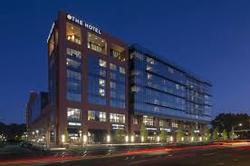 MECSNM-TS 48th Annual Fall Meeting
October 6th, 2018
The HOTEL at University of Maryland
7777 Baltimore Ave
College Park, MD
7 VOICE credits
Breakfast & lunch included
Registration:
SNM member $110, NON-Member $165

Not a member of SNMMI? Join the SNMMI on site and get into meeting for FREE

On site parking garage-$6 for day
__________________________________________



---